Posted: November 29, 2007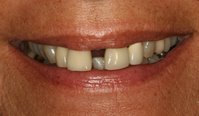 Before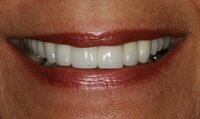 After
Is the time right to treat yourself to a smile makeover? Do you ever look at your smile in the mirror with a bit of disappointment when you put on your lipstick or adjust your necktie? Are you the one in all the photographs with a tight lipped smile? In Orange County and Los Angeles your smile can be one of your greatest assets and can reveal a great deal about your personality. According to the American Academy of Cosmetic Dentistry 3 out of 4 people feel that an unattractive smile can hinder a person's career success. 90% of Americans believe that a smile is an important social asset. Many of our patients here at the Orange Center for Cosmetic Dentistry have felt the same way and they have chosen to do something about it!  
With today's advanced procedures worn, chipped, teeth can be repaired with porcelain veneers, crooked overlapping teeth can be straightened, ugly metal fillings can be replaced with natural tooth colored fillings, and missing teeth can be replaced. In order to give you the smile that you've always wanted, careful attention is paid to many details. Details such as size, length, color, and shape of your new porcelain veneers will customize your new, vital smile exactly the way your want it.  
So, if you think your smile is holding you back in your profession, or socially, or if you believe your smile is keeping you from achieving your dreams, then it's time to treat yourself to a smile makeover!