Today's crowns don't look anything like the bulky, opaque restorations of years past. These all-ceramic, metal-free crowns are routinely used to repair broken down teeth without the gray line around the tooth and gum.
Click Here for Questions about Dental Crowns
All tooth crowns have the look and feel of natural teeth. If you have old metal-backed porcelain crowns on your teeth, your smile will look more alive and vital with crowns made of today's modern ceramic materials.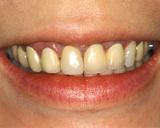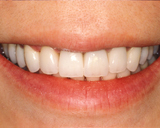 If you are ready to enhance your smile with a tooth crown procedure, please contact the Orange Center for Cosmetic Dentistry using the form on this page or call (714) 385-1672 today for a free consultation. Dr. Henry is pleased to serve patients in Orange, Fullerton, Anaheim, and other Orange County areas of California.