Posted: November 14, 2007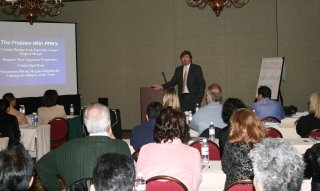 Last week, Dr. Marty Abelar and I presented a two day lecture to 70 dentists, hygienists, assistants, and dental lab technicians at the Hyatt Regency in Monterey, CA. The participants were very energetic as we presented the Las Vegas Institute (LVI) Regional Event that included such topics as designing smiles, porcelain veneer preparation guidelines, and rapid cementation techniques for porcelain veneers. The first day ended with a discussion of how dentistry today can improve people's lives by improving the appearance of their smile, and by helping them to feel better by eliminating headache, neck pain, facial pain, ear congestion, and vertigo commonly associated with TMJ dysfunction.
The second day began with a discussion of neuromuscular dentistry and how TMJ symptoms can be resolved. This lecture reviewed the science behind Neuromuscular Dentistry and the sophisticated equipment that it employs, such as computerized jaw tracking analysis, recording of jaw muscle EMG's, sonography of the jaw joint, and how the TENS unit is used to relax facial muscles that are involved with TMJ dysfunction. We then demonstrated the use of a TENS unit on five members of the audience who had various degrees of signs and symptoms of TMJ Dysfunction. It was rewarding to see how excited everyone in the room was after the demonstration. The two days ended with lectures on 5 star customer service, marketing, and some specifics of Marty's and my journey of how we practice dentistry. We were thrilled by the large number of doctors who signed up to take a course at LVI.
Marty and I appreciate our many sponsors of the event, Williams Dental Lab, Aurum Dental Ceramics, I Enhance internet services, and Microdental Dental Lab. Marty and I were extremely thankful of I Enhance for flying us up to Monterey in their company plane. It was an awesome flight up to Monterey and back in their Piper Meridian.