In years past, when a tooth was badly decayed or broken you were left with few choices to restore the tooth functionally and esthetically.  Whether we are talking about a front tooth or back tooth, today we are fortunate to have predictable, strong, all porcelain restorations that are bonded into place to choose from.  Old style crowns were either made out of gold or porcelain fused to metal that strength wise were adequate but left a lot to be desired in terms of how they looked.  Porcelain fused to metal crowns were usually bulky and left a grey line around the tooth and gums. These crowns would require a great deal of tooth reduction and drilling in order to allow enough thickness for the porcelain and metal as well as for retention of the crown.  They would be cemented with water soluble cement that over the years would deteriorate in the mouth and come off. 
With the advent of today's modern materials, Dr. Joseph J. Henry can replace broken, decayed teeth with a conservative all ceramic restoration that requires a minimum amount tooth structure removal.  A porcelain inlay or onlay only replaces the damaged portion of a tooth while leaving the remaining portion of the tooth unchanged.  If the remaining undamaged portion of the tooth is weakened by a crack or fracture, or there is just too little tooth remaining, an all porcelain crown (a crown with no metal) may be necessary to restore the tooth to proper function and strength.  In either case, these restorations look fantastic and are very lifelike looking especially when used in the front of the mouth.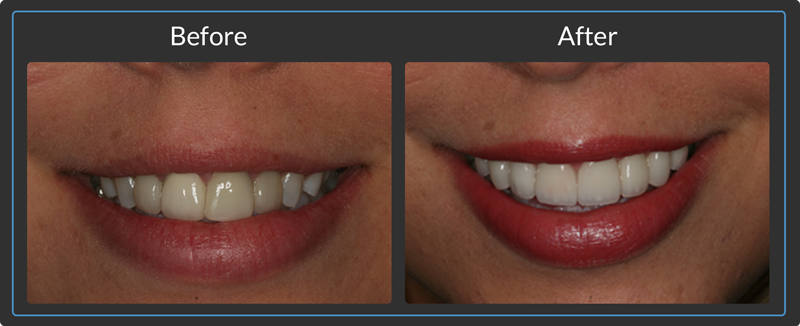 Crowns, inlays, and onlays require two visits and a temporary is worn between the two appointments.  At the first appointment the damaged tooth is repaired and a digital scan is made of the tooth preparation.  This digital scan takes the place of the traditional messy impression that was used in the past and the scan is electronically sent to laboratory professionals for the fabrication of your new porcelain inlay, onlay, or crown.  At the laboratory they are responsible for giving the restoration a precise fit and beautiful life like esthetics.  At the second appointment approximately two weeks later, your porcelain crown, inlay, or onlay is securely bonded into place.  Afterwards you would care for your new restoration as you would your natural teeth.  Regular brushing, flossing, and routine dental cleaning and checkups will ensure that your new all porcelain crown or restoration will last many, many years. Anything that could break a natural tooth can break a crown, so extremely hard foods like a jawbreaker or chewing ice cubes should be avoided.  
Patient Testimonial
"I have been a patient of Dr. Henry for over 30 years. He has a passion for his craft which gives you confidence in his work. His office staff is attentive, compassionate, and friendly. As a person who is anxious about going to the dentist, Dr. Henry puts me right at ease. I know I can trust him to do what's best for me. He always explains exactly what he has planned which is very comforting. He is patient and kind, even when he has to explain the procedure more than once to me! Everyone in my family agrees that he is amazing. I am grateful to Dr. Henry and his staff for all the years of wonderful care."
Schedule A Client Consultation
If you or someone you know is ready to improve their smile and appearance by replacing ugly grey crowns or fillings from their mouth then please contact Dr. Henry at the Orange Center for Cosmetic Dentistry, 714 385-1672.  Proudly serving Tustin, Orange, and the greater Orange County area.