Do you have a crooked, uneven smile? Do you have gaps or cracks in your teeth? Are your teeth worn or stained? Would you like to fix these problems, but you don't want to deal with the hassle of braces?
Now you can fix/improve your smile in just three office visits. How? Porcelain dental veneers.
Porcelain veneers, often referred to as "instant orthodontics" are a dental solution for a wide variety of cosmetic concerns. From chipped or gapped teeth to a yellowing or worn-looking smile, porcelain veneers can help you achieve straighter, whiter teeth that will have you smiling at the world with confidence.
If you are unsatisfied with the appearance of your smile, contact the Orange Center for Cosmetic Dentistry online or by phone today at 714-385-1672 to schedule your free consultation and learn more about why dental veneers may be the best cosmetic treatment for your smile. Dr. Henry welcomes patients throughout Orange County, including Fullerton and Anaheim.
What Are Porcelain Veneers? Why Are They Called Instant Orthodontics?
If your smile needs a makeover, porcelain veneers offer a beautiful way of revitalizing your smile with minimal time commitment.
Porcelain veneers, also known as dental veneers, are an eggshell-thin layer of porcelain that is bonded to the outside of your teeth allowing you the freedom to chose the new color and shape of your smile. Veneers provide the same look, feel, and function as natural teeth—only better!
"Instant Orthodontics" is a term that is used when veneers correct crooked or overlapping teeth. In as few as three visits, veneers can make your smile appear as if you wore traditional orthodontic braces for years without the hassle of actually wearing braces at all.
What are the Benefits of Porcelain Veneers?
Porcelain veneers provide our patients with many benefits, including:
Natural look. Veneers are color matched to your adjacent natural teeth so they will blend with your smile or for a full smile makeover, you can select the shade of white you prefer.
Stable color. Unlike natural teeth, veneers will not change color over time, which makes them an excellent choice for covering teeth that do not respond well to tooth whitening.
Instant straightening. Not everyone who wants straighter teeth wants to undergo orthodontic treatment. Veneers allow you to achieve a straighter smile almost instantly.
Durability. Porcelain veneers are bonded permanently to your teeth and will act just like your natural teeth for biting and chewing. However, It is important to remember that they are not indestructible. Just as your natural teeth can chip when used as tools, so can your veneers. Treat them well with a good daily hygiene routine, and they will keep your smile beautiful for years to come. 
Customization. Porcelain veneers are crafted specifically for your smile with your end ideal in mind. With porcelain veneers, Dr. Henry can cater to the unique traits of your smile.
Confidence. Perhaps the benefit our patients love the most is the restored confidence they receive. From daily interactions with loved ones and co-workers to those special occasions where you want to look your best, porcelain veneers can ensure that your smile always shines as brightly as your personality.
Learn More from Dr. Henry and His Patients About Porcelain Veneers
Watch Dr. Henry and his patients talk about the benefits of porcelain veneers. You will learn more about:
What cosmetic dental issues can be corrected with porcelain veneers
What you can expect from the process of having porcelain veneers placed over your teeth and
What kind of results you can expect for your dazzling new smile. 
What Dental Problems Can Veneers Fix?
Porcelain veneers can be used to correct a wide variety of cosmetic concerns and rejuvenate your smile so that it appears more vital and more alive. If your smile suffers from any of the following, you may be a good candidate for porcelain veneers:
Spaces between teeth
Gaps in your teeth
Dingy, discolored teeth
Chipped teeth
Worn or aged looking teeth
Crooked or overlapping teeth
Many patients are excited to learn that instead of enduring years of wearing traditional braces, they can rely on porcelain veneers as an instant orthodontic solution to achieve straighter looking teeth.
Who Are The Ideal Candidates for Porcelain Veneers?
Porcelain veneers are appropriate for the vast majority of patients, and Dr. Henry will conduct a thorough examination during your consultation to ensure that porcelain veneers are the best cosmetic dentistry solution for you. In general, veneers will be a good choice if you have:
Healthy, fully mature teeth
No gum disease
No history of grinding or clenching your teeth
Good overall health with no active infections
Gum disease or other oral health issues will need to be resolved before you consider porcelain veneers. Patients who have multiple fillings may be better candidates for dental crowns. Silver fillings, in particular, may show their dark color through after some of your tooth structure is recontoured in preparation for veneers. For patients who are heavy teeth grinders, you have the potential to break the veneers over time, so you will want to discuss alternatives with Dr. Henry. If dental veneers are not the right choice for you, Dr. Henry will help you select the right cosmetic dental treatment to help you achieve your goals for your best smile.
Customize Your Smile:
What do you want your new smile to look like? Your porcelain veneers will be custom crafted to suit your individual needs. We aim to give you the smile of your dreams.
During the porcelain veneers process, we will create a mock up of your new smile for you to review with Dr. Henry. Together, you can make any adjustments necessary to achieve the most pleasing results that blend seamlessly with your features.
The Dental Veneers Process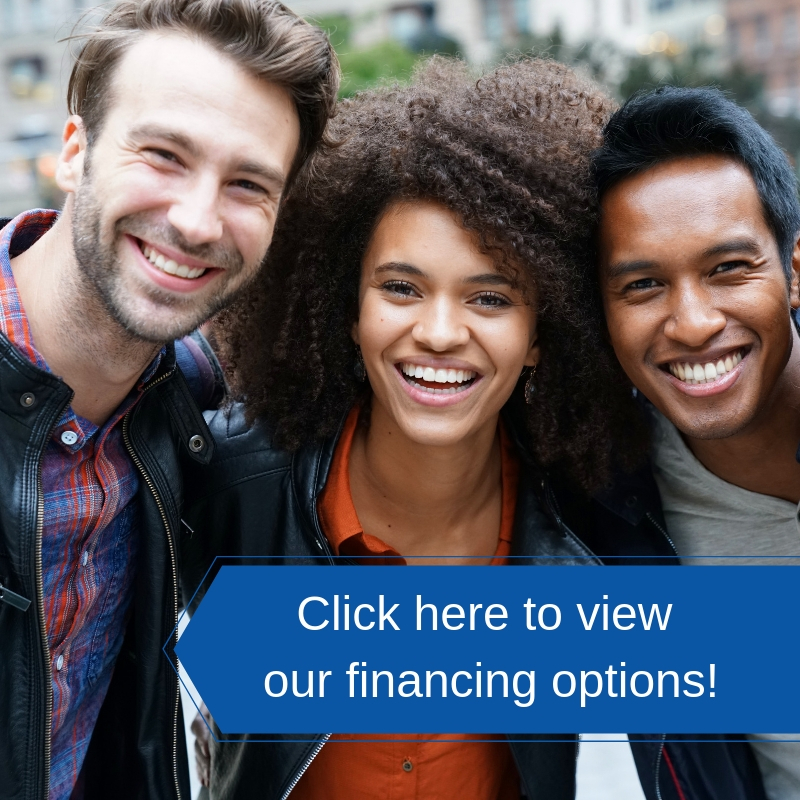 Porcelain veneers can give you the beautiful smile you have always wanted in just three office visits.
First Office Visit: Determining Your Look
During your first visit, Dr. Henry will discuss your desired look and determine which teeth need veneers. Porcelain veneers can help shape your smile by adding length, width, or balance to any or all of your teeth. If only some of your teeth require veneers, those veneers can be shaped and colored to blend seamlessly with your natural smile.
Dr. Henry will create a model to show you what type of results you can expect from the veneers process. You will review your smile with Dr. Henry and adjustments can be made of needed. 
Second Office Visit: Your Trial Smile
During your second visit, Dr. Henry will prepare your teeth to receive porcelain veneers by minimally shaping them for the best fit and adhesion of your new veneers. Dr. Henry will then make an impression of your teeth. This impression will be used as a basis for crafting your final veneers and to create your trial smile for you to test out your new look. 
You will leave the office wearing your trial smile. The trial smile is comprised of a set of temporaries based on the mockup we have made for custom crafting your permanent veneers. Your trial smile is attached securely for the duration of time you are wearing it and will function much like your natural bite.
Third Office Visit: Your New Porcelain Veneers Smile
After your veneers are created by the lab, you will return to our office one last time to have your veneers permanently bonded to your teeth.
Following the application of porcelain veneers, discomfort is limited to tender or swollen gums for a few days. You may also need to have your veneers adjusted to a more comfortable position, which Dr. Henry will be happy to do for you.
Schedule Your Consultation Today!
Are you ready to see how porcelain veneers can transform your smile from one you may be ashamed to show to one you brightly flash for all to see? The best way to find out if porcelain veneers are the right choice for you is to schedule you consultation.
If you are ready to enhance your smile with porcelain veneers, please contact Orange Center for Cosmetic Dentistry by filling out the form on this page or by calling 714-385-1672 to schedule your complimentary consultation with Dr. Henry. Our dental office in Orange County, CA proudly serves patients in the surrounding communities, including Anaheim, Orange, Fullerton, and more.