Posted: December 14, 2008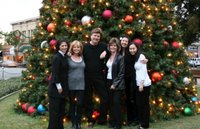 Dear Friends,
Merry Christmas and Happy Holidays to everyone! Christmas is almost upon us as well as the beginning of another year. This year, our annual office Christmas picture was taken in front of the Christmas tree in the Orange Plaza. 2008 has been another good year for all of us here in the office and we hope it continues for the upcoming year.
Janet & I keep busy with our family and all their activities. My oldest son, Joseph, is in his second year studying economics at U.C. Irvine, and my second son, Jeffrey is a senior at Servite High School. He is almost done with the last of his college applications. He will find out in the spring where he will be attending. He is hoping to land a spot at one of the U.C. campuses. My oldest daughter, Joanna, is a sophomore at Rosary High School and my youngest daughter, Jenna, is in seventh grade at Holy Family School. Joanna played on the varsity golf team at Rosary this season. I have enjoyed playing golf more with her…it has been some great father-daughter time. We had a wonderful family vacation in August taking a cruise around the Hawaiian Islands. We enjoyed the ship and visiting Oahu, Maui, Kona, & Kauai. The cruise gave us a nice taste of each island. In July, I went to a dental conference in Orlando and also took a little time to drive up into Georgia to visit some cousins that I haven't seen in many years. It was good to see them. I continued to instruct other dentists in the latest cosmetic techniques, advanced restorative procedures, and TMJ treatment at the Las Vegas Institute (LVI) several times last year. I am looking forward to continuing the same in 2009. I was also able to give a few lectures locally and look forward to doing more next year.
Orieen, her husband David, and her sister managed to fit in a cruise in the Western Caribbean this year as well. They had a wonderful time relaxing in the sun and seeing the different ports. Debbie and her husband Cal enjoyed trips to Park City Utah to visit Debbie's sister, as well as, local trips on their Harley motorcycle. They try to go riding each weekend. Marla became a grandma for the third time with the birth of her first granddaughter Madison. She and her husband Paul managed some time away in Santa Barbara as well. Our hygienist Lizz keeps busy with her two young children, the first of which started preschool this year. She was still able to travel some, making a trip to a resort in Costa Rica for rest and relaxation. Anh, our other hygienist, is very busy with her son and her family. He is almost two years old now. She enjoys cooking and baking in her spare time.
All of us at the office want to thank you for your kind referrals of family, friends, and colleagues to our practice. We appreciate the trust you place in us.
We hope you have a wonderful Holiday Season and many continued blessings for 2009!
Dr. Henry