Posted: September 19, 2008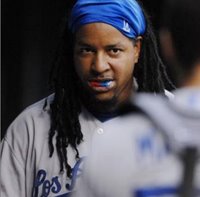 Just a quick blog about Manny Ramirez using the Pure Power Mouthguard (PPM). He was fitted for one during spring training this past March and has been using it all season. I was in Orlando at a dental meeting and the Angels were playing Boston. The game was on ESPN and Manny hit a home run in the 9th inning against Frankie Rodriquez. As Manny was rounding third, the tv camera zoomed in on Manny's face and you could clearly see his Pure Power Mouthguard in his mouth. Manny's statistics are up for the year over last year as well. Fortunately, today the Dodgers are the benefactors of Manny and his PPM as they make the final push towards the playoffs and World Series. Manny has been quoted "The improvement in my balance and range of motion is amazing! I LOVE The Pure Power Mouthguard for my game. This is MORE than a mouthguard. I am not Manny without my PPM".
Another high profile athlete using the PPM is Terrell Owens of the Dallas Cowboys. Last week against the Eagles, Owens caught his 131st career touchdown reception placing him second on the all time career touchdown reception list. He did it while wearing his PPM!
Isn't it time you found out the details that hundreds of professional and elite athletes already know? A PPM mouthguard can improve the club head speed of most weekend golfers, times for swimmers, runners, cyclists and so much more. The PPM mouthguard is another example of how Neuromuscular Dentistry can benefit peoples lives!
Find out how our very own Dr. Joseph J. Henry, DDS can help you by calling (714) 385-1672 or completing the form on this page to arrange your initial consultation. Orange Center for Cosmetic Dentistry serves patients in and around Orange County areas like Anaheim, Fullerton, Orange, and more.