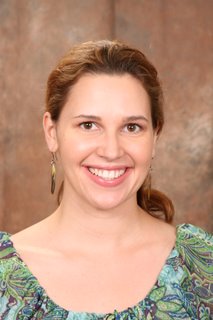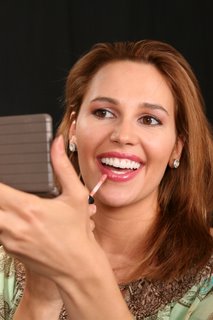 Our patient, Susie, has a fun story. She is a make up artist in Hollywood who has worked on many full length feature and TV show sets. During the recent writers strike we were fortunate to have hired her to do our patient's makeup for two days while we were photographing our patients for the most recent edition of the magazine "Spotlight on Smiles."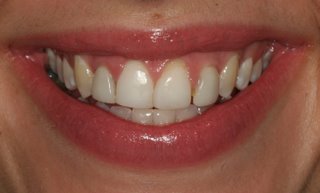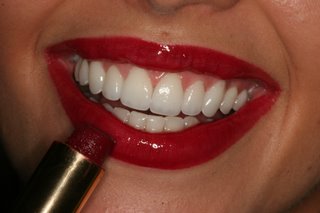 Susie said that during the two day photo shoot she noticed "how everyone was just glowing and their smiles looked amazing". "My old veneers had changed color and I was self conscious about the side of my smile. I felt people staring at the side of my smile. Professionally I was aware of my models and movie star smiles and it made me want to do something about my smile even more. In my industry, I am a reflection of my own work, and my smile now completes my look. When I go to a set to work, people think I am the actress instead of the make up artist! My teeth look so natural, no one knows I have veneers." We did ten porcelain veneers on Susie as well as taking out the grey silver mercury fillings that had darkened her side teeth. Everyone was thrilled with the result.
Susie's story is a powerful example of how a smile makeover with porcelain veneers can have such a positive impact on a person's professional life. An attractive smile is so important in making a good first impression, not only professionally but socially as well. Susie said "Dr. Henry is an artist with his craft and his team always makes you laugh! They have great chemistry and the teamwork shows in my smile and that of his patients. I am so grateful"!
Find out how our very own Dr. Joseph J. Henry, DDS can help you by calling (714) 385-1672 or completing the form on this page to arrange your initial consultation. Orange Center for Cosmetic Dentistry serves patients in and around Orange County areas like Anaheim, Fullerton, Orange, and more.