Posted: February 23, 2009
Before...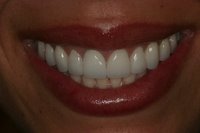 After!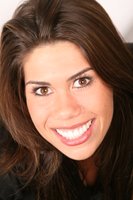 Nicole came to us with a couple of concerns about the appearance of her smile. She wasn't sure a smile makeover would correct her problems. She had a crown done on her front tooth when she was a teenager and it had started to turn black around her gums. She also felt her teeth were a little small and could be whiter. Nicole decided to replace her front crown with a modern all ceramic metal free crown and to have nine porcelain veneers placed on her other upper teeth. She chose a whiter color for her new crown and veneers as well as picking a size she felt better fit her face. Her satisfaction with the result is apparent in the photos taken after the procedure was done. The darkness is gone around the old crown and her smile is larger and much whiter than before. Her attractive smile now matches her exuberant personality!
Find out how our very own Dr. Joseph J. Henry, DDS can help you by calling (714) 385-1672 or completing the form on this page to arrange your initial consultation. Orange Center for Cosmetic Dentistry serves patients in and around Orange County areas like Anaheim, Fullerton, Orange, and more.